An idyllic setting just above Wanaka for this new build inspired in us to create an interior that combines all aspects of design and master craftsmanship.  A space that will surely have our client's friends green with envy! With incredible views of Wanaka Lake and the snow-capped mountains beyond, our clients wanted their home to be cosy, yet modern and inviting to share with friends and family.  The high vaulted ceilings already provide a feeling of space and the kitchen and dining have full-length windows to enjoy the gorgeous landscape. What's not to like!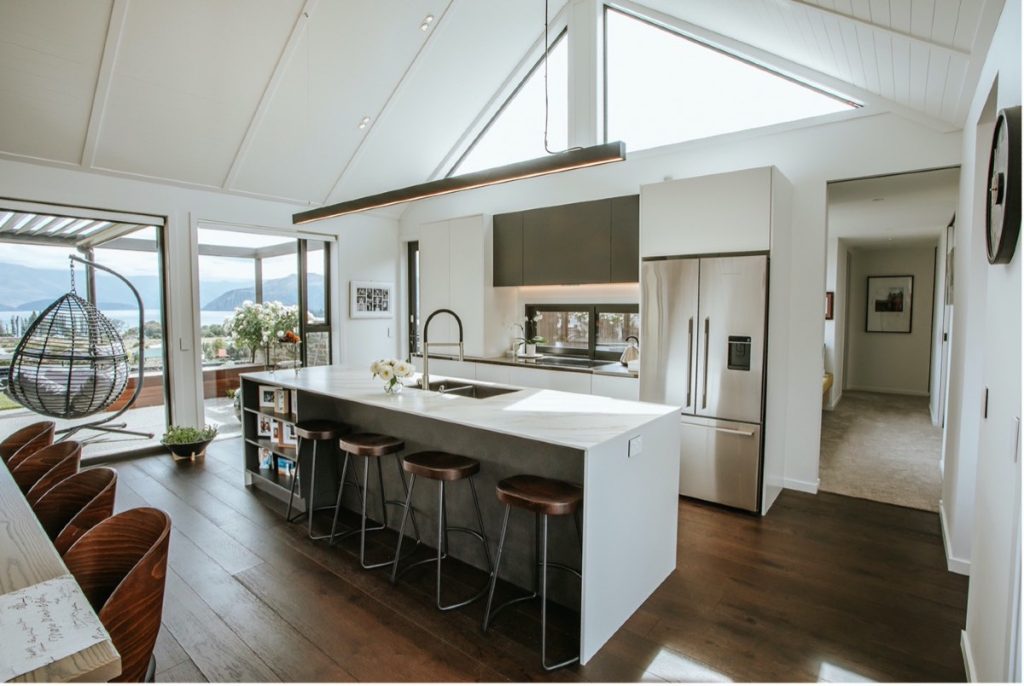 Together with our client, we created a modern feel in the kitchen, taking advantage of the plethoria of products available. Coming to the fore, white lacquered panels and contrasting detail using PSP Luxe panels in Cuzco Cobra provide the texture and colour reflected through the windows.  The hero of this kitchen must be the island benchtop in Neolith® Sintered Stone, Calcutta Gold!  What a beautiful product!   Not only does it look good, it is ideal for a family kitchen – scratch, heat, UV rays and bend resistant, hygienic, easy to clean and resin-free.  And to top it off, we mixed up the materials and used stainless steel as alternative for the back wall benchtop.  Stainless steel also offers a durable, stain-proof and stylish area close to the fridge and electric hob that is perfect for meal preparation.  Practical and beautiful.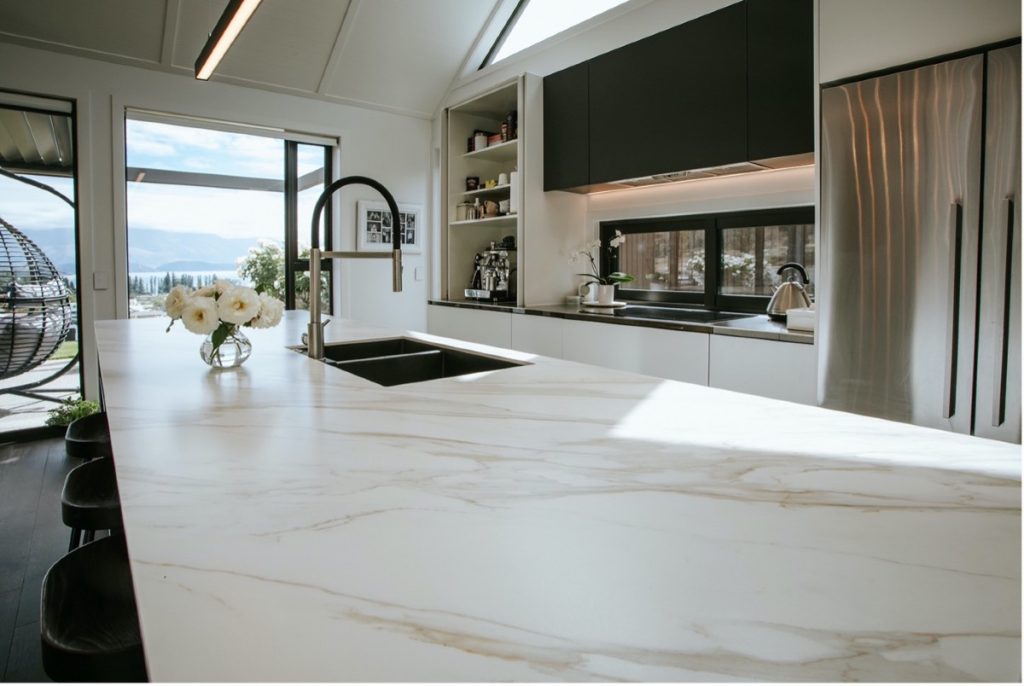 We added a few nifty ideas into this kitchen too!  Check out the coffee corner.  Using Hafele Hawa Concepta doors that slide neatly away when it's in use, it is well hidden for the rest of the day!
And we didn't stop there!  The pantry and separate laundry replicate the kitchen area, using both benchtop materials, Archant handles and Blum hardware, and with the addition of floating shelves in American White Oak. Then onto the study, master ensuite and walk-in wardrobe areas which are also coordinated, helping to create the home our clients truly deserve.