Perfecting your kitchen design is a big job, but that doesn't mean it can't be fun. In fact, with the right designer your dream kitchen can truly become a reality. When imagining the kitchen in their new house, our clients already had some great ideas. They took their inspiration from their favourite bar in the Swiss Alps, to create their own alpine sanctuary, full of natural earthy colours, rock and timber and with lots of light.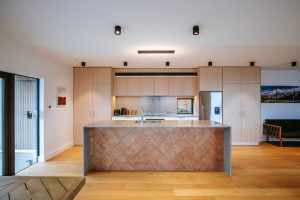 As well as wanting to reflect the alpine environment our clients had some practical wishes. "A pantry. We do a lot of entertaining. we have other families around every night during ski season."  As a core part of the design, we worked with our clients to include lots of storage space that was easily accessible, but is well hidden when guests are around.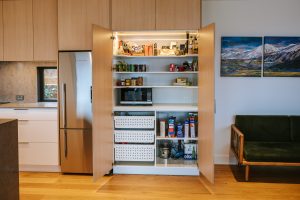 Say our clients, "The kitchen is light and easy to use.  We love the LED lighting.  The details are absolutely perfect.  Simple, classic and high quality".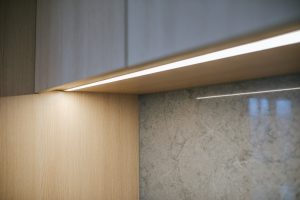 As well as the kitchen, we also installed a laundry.  Included in the design specification was somewhere to hang outdoor jackets, as well as a small drying area.  This room has been very successful, with many of our clients' guests commenting that every house needs somewhere just like this. It's definitely perfect if you have lots of visitors.
Is there anything our clients would change or do differently?  "This was a new build and if we did it again we would get Wanaka Joinery involved earlier in the design process.  They had so many good ideas, but in some cases it was too far down the line for us.  Their designer has incredible taste and is very forward thinking.  Lots of Wanaka is same and Wanaka Joinery's ideas pushed design boundaries.  They were patient and supportive.  Thanks to their open-minded thinking our dream kitchen became a reality. We couldn't advocate for Wanaka Joinery enough."
The Specs:
Caesarstone® Benchtop in Symphony Grey, with waterfall ends
Melteca Premium Oak panels
FIT pull out wire baskets
BLUM hardware including softclose hinges
LED channels routed in
Robiq Stainless Steel sink