Life is what you make of it. So why not make it the very best! Down a quiet cul-de-sac at the base of Mt Iron is where a 17-year-old family home received a makeover. And like the Tardis it's not until you're inside, that you appreciate the sense of space and light revealed within. The Wanaka Joinery team, Penny at Instinct Interiors and our clients worked together drawing on each other's energy to bring this project to reality. The brief started with a kitchen renovation. Our clients knew they wanted a modern kitchen, with storage and a large island bench that this fast paced, busy family could gather around, so it all started from there. Our brief overflowed into several areas of the house, aside from the kitchen, including the laundry, office, wardrobes and ensuite.  Just as Steve Jobs proclaimed "it takes a lot of hard work to make something simple", our collaboration has succeeded in designing, sourcing, and integrating simple hard-working materials that flow from the kitchen throughout the house.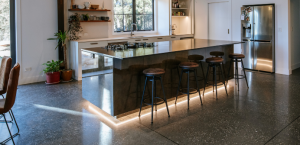 It started with the floor – a plain grey concrete floor! Once it had been ground back to expose what was beneath, the creativity flowed. The island stone benchtop "Caesarstone Vanilla Noir" 40mm complemented the exposed concrete floor and the Silestone "Yukon" 20mm benchtop on the back wall. Because of our client's busy lifestyle, we needed to use products that would endure the test of time! The cabinetry is made using the Prime Acrylic range meeting the heavy demands of a busy family life and the constant open-door policy of this vibrant family. The textures give service to this space, and it flows into the pantry to connect and extend both spaces.
The same unfussy approach was used in other parts of the house. Durable, tactile, practical and above all create spaces for the whole family to enjoy be it alone or with their friends, extended family, and guests.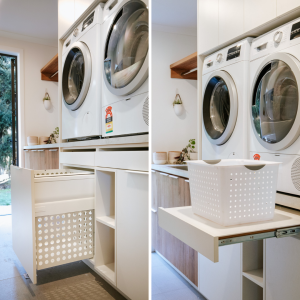 Top tip:  Allow for a decent amount of space between work surfaces, so you are not going to trip over one another! Kitchen design 101
The Details:
Stone Benchtops – Caesarstone Vanilla Noir, 40mm and Silestone Yukon 20mm
Kitchen Cabinets – Prime acrylic panels
Drawer/cupboard internal hardware- Blum soft close hinges and drawer slides
Kitchen Design – We love the on-bench cabinet that is incorporated along the back wall to house the coffee machine. To close it all off, the Hafele Concepta doors are functional, practical, and aesthetically pleasing to the eye.
Lighting – FIT LED lighting around the base of the kitchen island.
Laundry Design – the FIT hidden laundry hamper keeps this room tidy and organized.