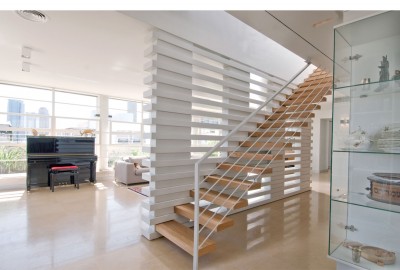 If you are planning a multi-level home the staircase will be an integral part of the design.  Often a home's staircase becomes a focal point, not just architecturally, but also for showcasing many of life's significant events like family and wedding photos.  And as a day-to-day utilitarian item, the staircase is a wonderful way to choreograph movement through a home.
It's no wonder that architects, designers and joiners spend so much time designing and constructing stairs, and that true craftspeople build stairs that are absolute joys.
The open-riser staircase gives the appearance of floating wood slabs.  Not only is the design stylish, it can also give a sense of openness, and allows air to circulate between the two floors.
As you walk upstairs, the open risers allow you to see what's below. All of this contributes to the unobtrusive design and works well in an area with limited space. It's architecturally modern and adds an artistic element to the space without detracting from the décor.
For chunky tread open-riser stairs, we favour oak which is the most economical hardwood, and it finishes well with clear polyurethane or stain.  Often seen as a timber for traditional design, this image shows how well it lends itself to the modern open-riser style staircase.
If you are planning a staircase contact us for advice on different design and material options.
Sources: