Wanaka has its fair share of beautiful kitchens.  Annabel Langbein's refurbished Dublin Bay cottage kitchen and Whare Kea's commercial kitchen are two that spring to mind. Wanaka's awe-inspiring mountain and lake vista serve up a pretty tasty back drop for theses savvy chefs to do their thing.
If it's time to think about upgrading your kitchen, or if you're starting from scratch with a new build, we know a few secret ingredients to add to the mix. Here are some aspirational kitchen photos as well as a couple of nifty new kitchen storage solutions that will ensure you have both a beautiful and practical Wanaka kitchen.
Beautiful Wanaka Kitchens
Take a look at Annabel Langbein's beautiful cottage kitchen, it has a traditional theme as well as an awesome outlook (photos courtesy of NZ Life & Leisure magazine).
James Stapley, head chef at Whare Kea, works in what must be one of the world's most picturesque commercial kitchens.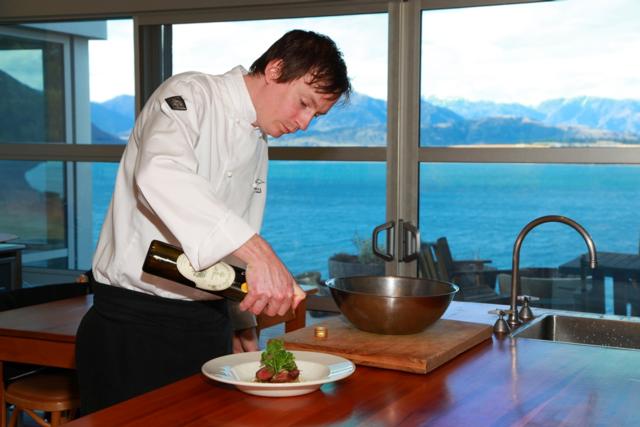 Ok, James and Annabel kitchens are pretty stunning, so here are a few clever ideas that mean your kitchen can be the heart of your home and be both practical and sophisticated.
Blum's narrow storage drawers
Blum's idea for narrow cabinets offers a simple option for making use of even the smallest storage space in the kitchen, without compromising stability and quality of motion. Diagonally offset runners ensure improved lateral stability and a high load bearing capacity of up to 20 kg per base cabinet. Depending on requirements, this solution can be based on box systems or wooden drawers with the appropriate runner systems.
Multifaceted and decorative: the CLIMBER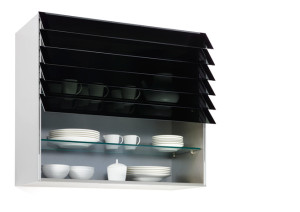 Shimmering glass and glamorous movement: the CLIMBER, by Danish company Kesseboehmer, is a very special wall unit. A gentle tap underneath the carcase starts the shimmering front splitting into slats that glide upwards in sequence to form a block at the top. The carcase can be supplied in three heights and two widths, in white or a stainless steel finish. The glass slats themselves come in a choice of four colours.
Whether you're building or renovating your Wanaka kitchen, talk to us about making it special, the proof is in the pudding.