Wondering how to style your kitchen?  The kitchen is more than just a place to cook – it's where you spend a lot of your time with family and friends. Good kitchen design isn't just about practicality and functionality, it's a reflection of you and your lifestyle!
When our clients decided to move from the suburbs of Albert Town to a more rural life in Tarras they wanted the kitchen in their new home to have a modern country feel.  As lovers of the outdoors and rural lifestyle, they  wanted to incorporate colours that reflected just that, by bringing the outside in.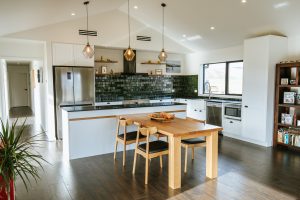 We worked together with our clients on a kitchen design that met their wishes and would stand the test of time. Practical, accessible, and styled to their specifications, this kitchen was crafted to suit their home and lifestyle. Quality fittings added to the classic and contemporary focus enhanced by the deep forest green of the textured tile and a butlers sink.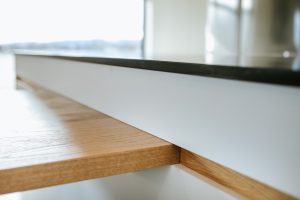 A place to enjoy good company and gatherings saw the incorporation of the adjoining American White Oak timber dining table.   In fact, the reason they choose to work with Wanaka Joinery was because our experienced joiners were able to custom make this table, making the whole process incredibly easy.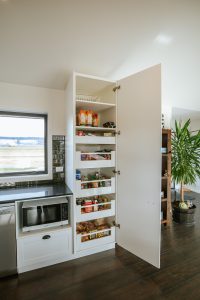 What are our clients' favourite parts of their new kitchen?  "The real beauty in this kitchen is in its functionality. Our last house had a walk-in pantry, and we were worried about missing this – we don't at all!  You don't need a massive space if you have function.  We also didn't have a massive budget, so we are stoked by the difference made with good design."  And what provides this functionality?  According to our clients, the whole kitchen is a practical design, but they particularly like the big oven and next to it a purposely placed  bottle pull out for all their cooking oils and sauces. Add to this the space tower pantry, which easily replaces their old walk-in pantry, and of course all the drawers are soft close.
Say our clients, "dealing with Wanaka Joinery was the easiest part of the whole build! We absolutely love our kitchen and we wouldn't change a thing".
The Specs:
Jet black Ceasarstone® benchtop
Durostyle Melteca panels in Snowdrift
Mercer Belfast Butlers sink
American white oak table and floating shelves
FIT Planero bottle pull out
Blum hardware and pantry space tower