It is often the finer details that make the difference between a house and a home.  From kitchens, bathrooms and laundries to bunk rooms, office spaces and staircases a joiner works with you to achieve just the right balance between function and aesthetics.  Joinery is a craft and simply put good joinery is about making sure your home looks how you want it to, functions how you need it to and that everything fits together seamlessly!
This is particularly true in the kitchen.  The kitchen is the heart of the home and often performs numerous functions. How we cook, what we store; how we live, dine, move and entertain all impact the kitchen space.
Read on for 6 reasons why you should use a bespoke joiner for your kitchen.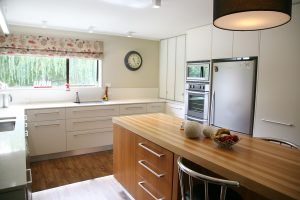 Made to measure
When we say made to measure, we mean exactly.  An off-the-peg solution that doesn't fit the space correctly won't look right and probably won't function well either. Flatpack is fine if you have a perfectly square room with no quirky angles.  However, if you have unusual or unique angles in your home that won't lend themselves to off-the-shelf solutions, then a bespoke joiner is the best way to ensure you get the most out of that space.  A joiner can  craft bespoke pieces that make the best possible use of your space, incorporating intelligent design features like drop-down desks or room dividers to create a unique look in your home.
It is their expertise that will help you to find the best solution for your home.
Designed for you
Well-designed joinery not only fits your space and looks good, it allows for you to make use of your space in a way that works best for you.  Whether this is a specific space, like the laundry, or you are looking to create a multifunctional space (think hidden desks!).   This can also mean extra storage, extra display, integrated furniture or a way to disguise whitegoods.  Your joiner is truly an expert – they know all the products available and can work with you to create the best solution for you.
As we have already said, this is particularly true in the kitchen.  Buying off-the-peg cannot always meet the specific demands and intricacies of a personal kitchen, and this is when bespoke is the best option. A tailored, handmade kitchen allows you to maximise all available space you, no matter the shape, size or height of the space you have. Style, colour, materials, lighting and cabinet size can all be personalised to each project – making for a truly amazing space.
A touch of uniqueness
One of the most significant benefits of bespoke joinery is the opportunity to work directly with a true artisan to create elegant and unique solutions to your problems – adding that touch of individuality!  A joiner will bring your ideas to life and help you to express your style and taste.  No other home will be the same!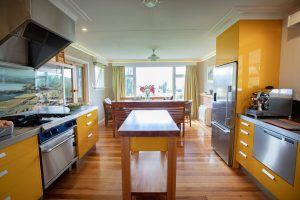 Matching new with existing
Another advantage of bespoke joinery is that you don't have to completely redesign your home's interior (unless you want to of course!) .   A talented joiner will use their creativity to coordinate across your home and create a holistic seamless look, be that contemporary or more traditional and everything in between.  New joinery can be designed to fit perfectly alongside existing furniture, so you can enjoy the benefits of your new space, without having to thing about redecorating!
Align with budget
A good joiner will take the time to really understand your needs as well as your home and style.  Once you have an agreed design, they can present lots of options in terms of materials, manufacturing methods and finishes that will align with your budget.  A little extra now can save you a lot of money in the future.  And while it's true that bespoke joinery may be more costly than off-the-shelf options, it is an investment that will last a lifetime. Because of the made to measure and custom work involved, if your joinery is well taken care of, it can last throughout your ownership of the house, it won't need redoing again ten years down the line.  Additionallythese kinds of bespoke touches are highly desirable, transforming your interiors and adding significant value to your house should you come to sell it on in the future.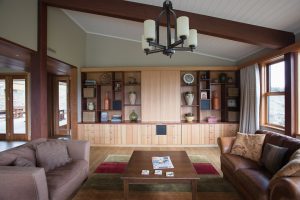 Quality
Attention to detail and a high-quality finish doesn't happen by accident. Professional joiners have decades of experience mastering their craft and take pride in their work.  Well-made custom joinery will often outlive a store bought piece and it becomes an added feature to your home.  Often featuring unique design, handcrafted, high quality materials and traditional manufacturing methods custom joinery pieces are of a much higher quality than their generic store bought equivalents. When you opt for bespoke joinery, you know you're getting pieces of the highest quality created by people who live and breathe this craft.
At Wanaka Joinery we take our craft very seriously.  We love to provide our clients with custom made high quality solutions that will last a lifetime.  We take precision even more seriously – so seriously in fact that we even practice this on team nights out!  If you are looking for a new kitchen, bathroom, laundry, library or staircase please give us a call.