We love to delight our clients and it's great feedback when they return for more – clients of this lovely kitchen did exactly that! When they decided to build a new home, they were keen to have a similar look and feel in their new kitchen as the kitchen we had helped them create in their old property.  Their new home is in a stunning part of town, near Wanaka's Sticky Forest, and the industrial design of this space is both modern and functional.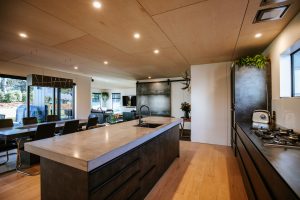 The mixed finishes of matt black, sleek concrete and stainless steel combine with the warmth of the timber flooring and add luxurious textures to this modern kitchen. Seamless style and functionality were high on our clients' wish list, and the whole team at Wanaka Joinery worked closely together with the clients to achieve this in their forever home.
Custom made steel handles finished this look. Templeton and Sons did an immaculate job! If you're looking for something a little different with your design, you can make a big impact with small custom features – handles, shelving, artwork, or some well-placed accessories. Wanaka is a haven for hidden talent………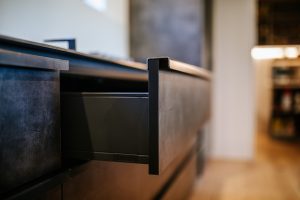 And of course, it's the things you don't see in a kitchen that can make all the difference! The separate pantry is an off shoot from the kitchen, providing an open storage space where access to everything needed is within arm's reach, including an extra dish drawer washer for that extra bit of washing up.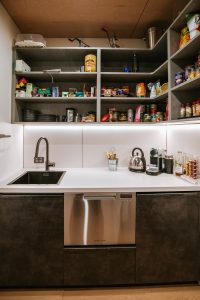 As craftsmen we love to be involved in other parts of the house too!  Laundry, doors, vanities, entertainment units, wardrobes, stairs and more….
We are delighted that our clients chose us to journey with them as they built their forever home – thank you!