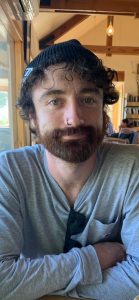 Niall joined the team at Wanaka Joinery in May 2022 as an experienced and qualified joiner, having joined the profession straight from school.  He has spent most of his over 10 years of experience in Sydney, Australia, before taking a break and travelling including to Canada, Japan and the UK.
Niall and his partner found themselves stuck in Sydney during COVID and decided they really wanted to live in a mountain town.  An outdoor lover Niall is usually found snowboarding, skateboarding, walking or mountain biking in his spare time – in fact he says, anything outdoors, and it is for these reasons that he is absolutely loving Wanaka!
What does he love most about working at Wanaka Joinery?  The atmosphere – it's a really friendly workplace.  Everyone works well as a team to get a quality job done.